Having never been to the London Olympic Park Velo park before I have no had the pleasure of visiting twice in the last 2 weeks. Last night I went to day 2 of the London Six Day event in the velodrome itself and last week my friend and I did an hour session around the flood lit road track on the park.

My friend are taking part in a Tour d'Strava where another friend downloads our Strava stats each month, puts them into a spreadsheet which then calculates points and rankings for various competitions. At the end of the year the winners in each category are announced and we win some pride and bragging rights! One of the competitions is the green jersey for the fastest ride over 20 miles; so we went to the Lee Valley Velo Park Road track to have a crack at beating it. The fastest time before this was just over 20mph over an almost exactly 20 miles, I was on 17.5mph following the 100mile RideLondon event. The main criteria to do well is not having to slow or stop, hence choosing the track which is 1 mile so 20 laps in just under an hour would be enough to break the current fastest time.
Once I found the place after riding around a number of paths in the Olympic Park we paid for entry (only £4) and went in. There are free lockers to dump stuff so we striped the bikes down to minimal stuff including saddle bags and lights as the track is floodlit. We did a lap to warm up and then started the GPS for an hour of drafting each other around the track. It is so nice to be riding on smooth tarmac where you didn't have to worry about anything other than the few other bikes and could use the whole road. After a few laps you really start to notice that there is a bit of an incline but with a fairly steep downhill to build up some speed down the straight. It was a bit repetitive but was good fun especially with the extra challenge of trying to beat the average speed. There were a couple of other people there but it wasn't busy at all or we were going at a similar speed, most people got out of the way or called so we knew they were coming. By the end i was knackered, probably should have eaten some more food beforehand, i just had a gel before and during as well as a cereal bar. In the end we did it though, managing an average of 21.6mph on my GPS, my friends speed sensor gave 21.9 though! I guess it just depends on the resolution of the GPS data logged and how accurate any sensors are.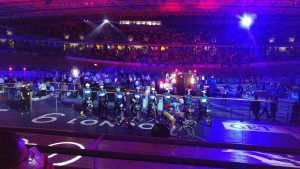 The send event at the Velodrome was day 2 of the London Six Day last night, it was a really fun evening and i would highly recommend. There were plenty of events over the 5 hours it was on for with a bit of a party atmosphere and plenty of beer (which i didn't make the most of as was a bit unwell).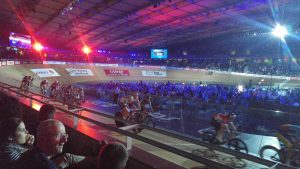 There were sprinters doing a few events and 16 teams taking part in various events throughout the evening including Derny, Keirin, Madison and Eliminations. We only paid £20 for our tickets, and were in the 2nd row back if you get a chance to go to any of these track events go for it!