It has been a very long time since writing something up on here so thought I'd add this brief post so any friends and family that read this know all is going well. I'll probably follow up with a post about a few other things too.
We've been very lucky over here in Aus with regards to the "whole Covid thing", whilst the winter lockdown in Melbourne was rubbish it has meant (at time of writing) we do have many more freedoms compared to places like Europe with very few cases floating around. I hope this doesn't jinx it given a few cases have come out of the hotel quarantine recently.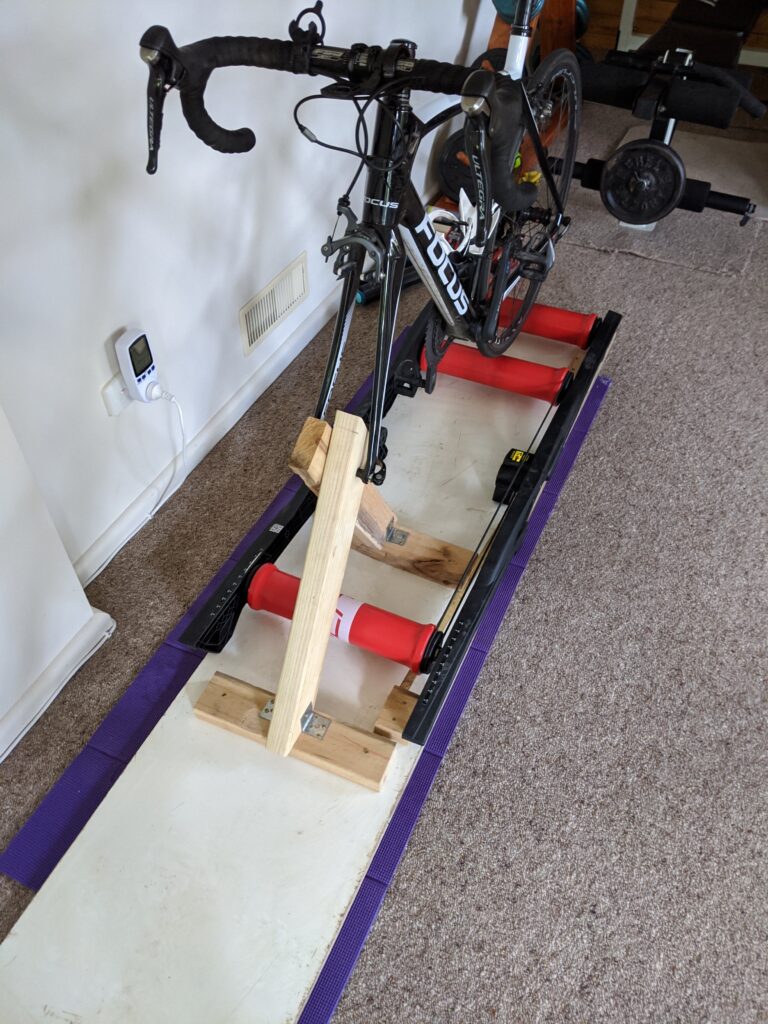 I managed to break my shoulder falling off my bike on a gravel track on the last day of freedom before the 2nd, longer, Melbourne lockdown this did mean that I didn't have too much of a chance to get restless initially. The break wasn't major but I was advised not to ride for 6 weeks so just ended up doing a few walks for my hour of government approved exercise. Once it did start to get better I did bodge together a front wheel mount for my rollers so at least I could do a bit of exercise and get some cycle fitness back. After the 6 weeks we were still limited to a radius of 5km from home so rides were limited but the roads were super quiet so I was able to do some quite fast loops in the 2 hours allowed.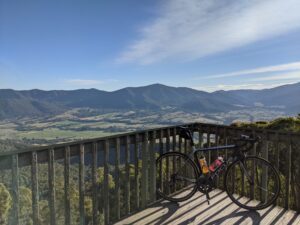 It was great to be able to get up to the mountains and we some great rides which I hadn't done before. We started with Mt Buffalo on the first day, Falls Creek from Bright (including Tawonga Gap) on the 2nd day – which I had really bad cramp in both legs when coming back down Tawonga Gap. It was so bad that when at the bottom both legs cramped and I basically just toppled over, thankfully I had a bit of a push the short distance back in to Bright. After having loads of magnesium tablets that afternoon and evening the legs seemed to recover ok. The 3rd day the weather wasn't great with a few small showers but we did a Rosewhite loop, up the Bright valley over to the next, down to Mt Beauty (a valley town) and back over Tawonga Gap again – this time with no cramp and setting a personal best time! The final day was a quick out and back up the Buckland Valley – legs were well and truly done by the end!
On Boxing Day Michelle and I went away for a couple of nights to Port Campbell on the South West Victoria coast. On the drive down we stopped at the Twelve Apostles rock formation, of which there are about 8 Apostles (stacks) left. As there weren't too many people due to lack of coaches of tourists we also did the helicopter trip up the coast to view some of the other formations. We were lucky with the weather and had great views up and down the coastline. The rest of the time in Port Campbell we spent exploring the other coast formations including "Bay of Islands" and "London Bridge" with some short coastal walks. Of course also sampled some of the local beers too just to make sure it was ok. On the way home we popped into the Live Wire Park where we did a zipline coaster – essentially a combination of a zipline and a suspended roller coaster hanging from the trees. It was good fun but very short-lived, the park was very small and the multiple zip lines we did at the Otway Fly park over a much larger area. I'm glad we did it but probably not worth rushing back!
Well that brings things up to the end of 2020! I'll add another post with another update soon.