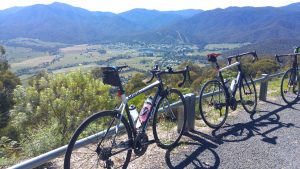 Last weekend i was lucky enough to be invited to go on a cycling trip to the Victorian Alps staying in the small village of Harrietville down the road from the larger town of Bright.
The trip was organised by one of the guys who I've met through Croydon Cycleworks and they have been going for a few years now. We stay in a large house that has had bunk beds put in all the rooms and use that as a base for a few days of riding.
This was my first chance to try some of the climbs in the 7 Peaks challenge. The aim to to ride 7 specific climbs in Victoria during the summer season, this is something i hope to complete this season if i can.