Since I have moved to Australia i have started using the starred segments in Strava to find climbs and recommended routes to ride but it is a real pain to see where these are located relative to each other. So I decided to knock up a page using the Strava API to do it (the weather was rubbish so i didn't use up cycling time).
Click Here to give it a go let me know what you think or if you have any issues / ideas in the comments below.
Update 19/09/2018: Now includes segment category filters
This page does require you to be a user of Strava which is a social site where you can upload activities (primarily cycling, running) and see how your times compare to friends or how you are improving yourself. Anyone can add Segments which are sections of road, whether that be a climb, downhill or anything else really. Some segments are really short and pointless but the longer ones are a good way of finding roads to add to a route (which you can make on the site and add to a GPS). You can then star these segments so you can see them in a list to find them again, however Strava does not have a map so you can see these segments all in one place.
That is where this page comes in, i have been looking at a number of routes on The Climbing Cyclist and elsewhere but it is hard to see where the ones i am interested in are all at the same time relative to each other. So using the Strava API (way of accessing Strava data) I made this basic web page to load all of your starred segments and draw them on a map, if you don't have Strava it looks like this: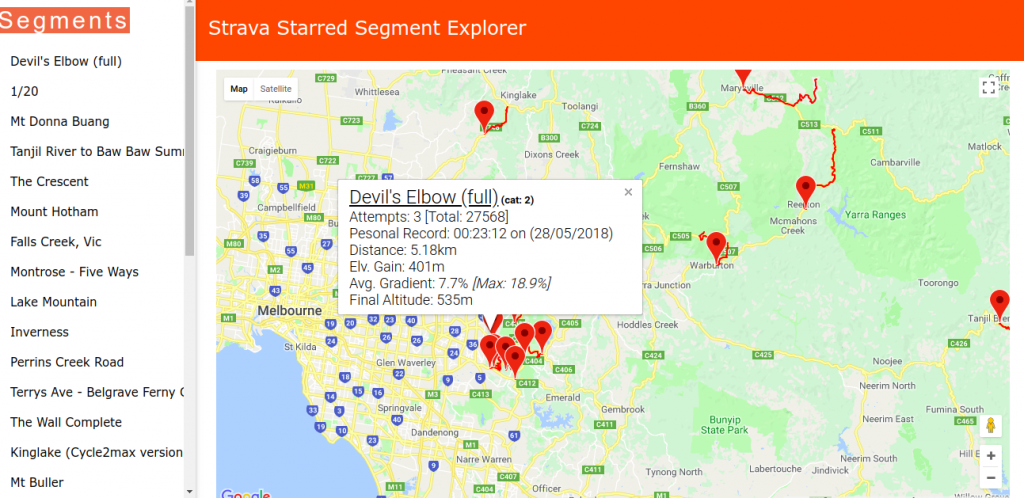 The site just takes data from the Strava systems so i don't have control any any inaccuracies in distance, elevation or gradient details.
I hope anyone who finds it thinks it is useful, it has fulfilled my requirement so the main aim is achieved.
If anyone finds this useful or has any thoughts / ideas of other features then please let me know in the comments.
Update 19/09/2018: I have now updated this Starred Segment Explorer to include a filter for the climb category of the segment. The workings have also been tweaked and as such segments are now sync'd with Strava and stored in a database which should be quicker than requested all data from the Strava API each time.
As before please let me know if you have any comments / feedback
Update 30/11/2018: Link to VeloViewer now included on each segment info box.