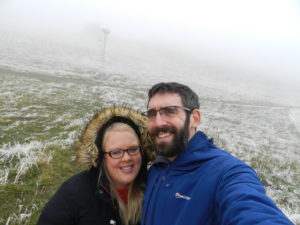 Last weekend we decided to go away for a few nights we ended up deciding to go to Mansfield in the Victorian High Country. It is only around 2 hours from us but had been recommended as a nice place to visit by a neighbour. We stayed at the Alzburg Resort which is a self catering place with a heated (a bit) outdoor pool, sauna and indoor spa pool. As we are now well on our way into Autumn it wasn't that warm and sunny so we weren't brave enough to use the pool.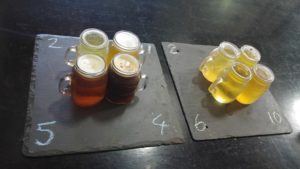 We arrived at lunch time and checked-in early to dump our stuff and headed into the town to grab some lunch in a cafe. After which we walked about 25 mins out of the town to the Social Bandit Brewery , where we had a beer tasting platter each before deciding which beers to move into next. They had one which tasted a bit like sparkling wine which we started on; Michelle found out the hard way that unless you have it first and stick to it you can't go back – was a strange taste for a beer. That evening we went to the Mansfield Hotel pub for a few more beers and wine and dinner before preparing for any hangovers the next day!
Fortunately i didn't wake up feeling too bad at all, we headed out fairly early for a drive up to the top of Mount Buller, the nearby mountain (1,805m). This is one of the 7 peaks cycling climbs but not one i have done yet – it wasn't great weather so i'll save it for next spring/summer.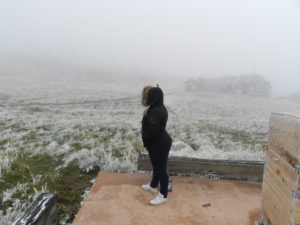 The drive up was very scenic through the forests that surround the mountain, although the car did have one moment that it decided not to work properly but that seemed to fix itself… . Once at the top the resort was very quiet with the exception of a few mountain bikers making the most of the last weekend of the cycle trails being open. We drove around a bit higher and Michelle got to see her first bit of Australian snow! We were up in the cloud so the view wasn't great and as there was nothing really open we headed back down into the town for some breakfast/brunch back in Mansfield.
The afternoon we headed over to Mansfield Zoo which was a 10 minute drive from the town towards Jaimeson. The zoo has quite a selection of animals roaming free as well as various animal in pens and larger enclosures. They also have 4 lions which they have taken on from other Australian zoos where they were rejected by the other animals and potentially going to be put down.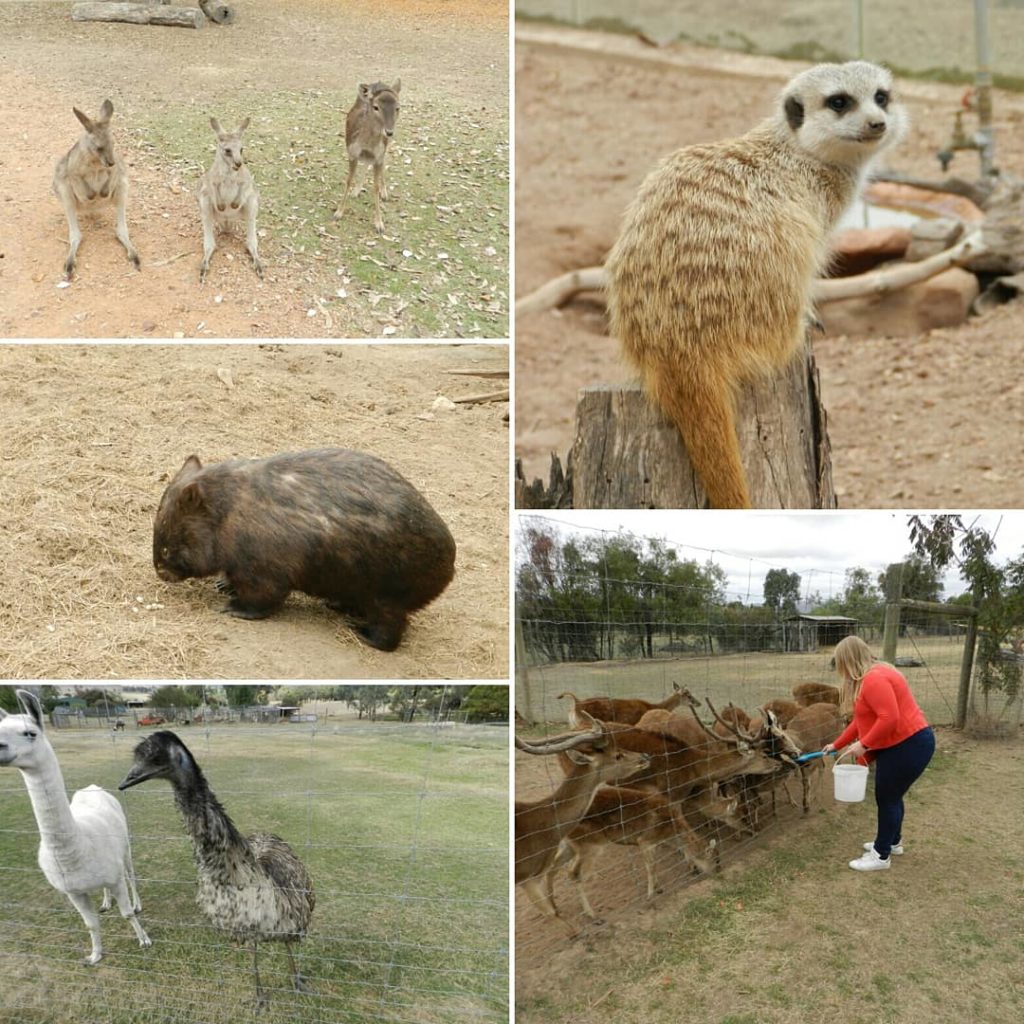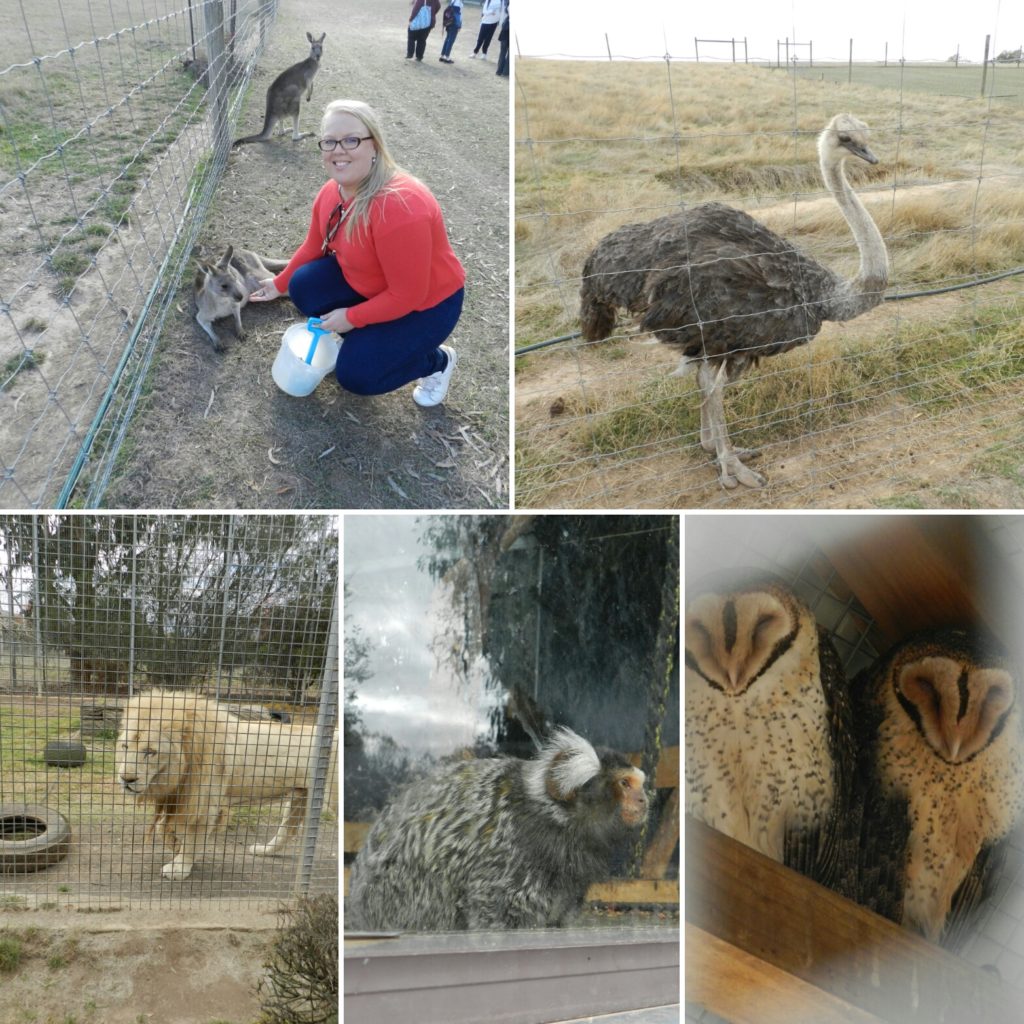 You could also buy small buckets of feed for the free roaming and some of the other animals by later afternoon most of the ones you could feed seemed pretty stuffed though! The manager of the zoo also gave a bit of a talk and overview whilst the lions were being fed. It was a fun afternoon out and something a bit different, what would have been nice was if there was more of a conservation incentive or more details about the zoo projects. We were told they weren't allowed to breed the lions though due to their Victorian government license restrictions.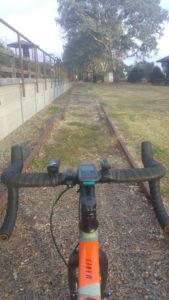 For the final day I got up a bit earlier and left Michelle at the hotel, got on my gravel bike and headed off down the Great Victorian Rail Trail. It runs roughly along the route of an old branch railway line that lead to Mansfield from Tallarook.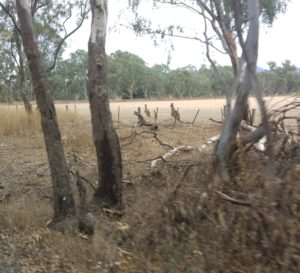 The plan was to ride the ~85km to Yea and hopefully meet Michelle there at about the same time.  The ride was good fun and I luckily had good weather for it too, bit chilly but i avoided any rain. I had a bit of a race with some Kangaroos early on – hoping they weren't going to hop across the path in front of me. Being an old railway the ride was fairly flat with about 400 metres of elevation gain over the whole route.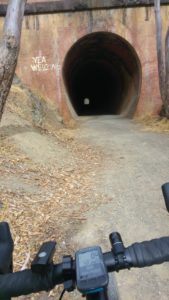 Another highlight that was mentioned to me beforehand was the Cheviot Tunnel, it was a bit shorter than i was expecting (200m) but was fun to ride through, luckily there was no one coming the other way. After the tunnel it wasn't far to Yea where i ended up arriving at about the same time as Michelle, after her extra lie in. It was a fun trail and would definitely do it again and/or a bit more of as there is an extra short branch down to Alexandra to do as well.
For lunch we went to the Yea Bakery which had a great selection pies and fuelled up before the drive home. We had a good weekend and will certainly be back over that way before long, whether for a ski trip or another summer trip. Next time we'll have to head up to the King Valley as well to get on the prosecco they make there.